Mold problems at Blount County Jail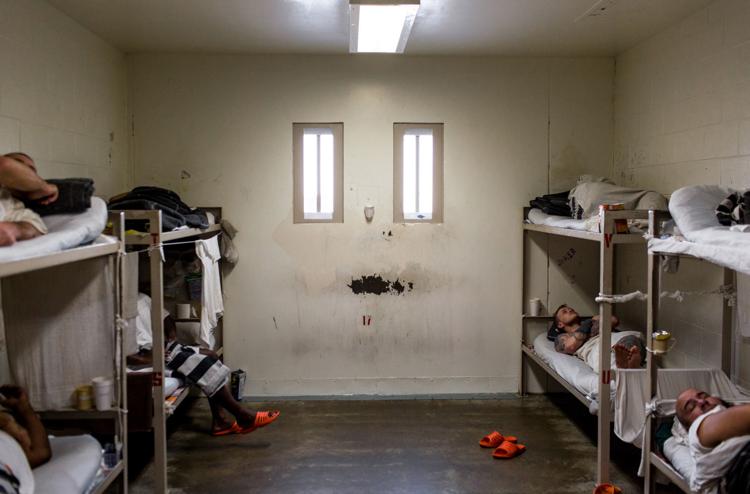 The Blount County Jail suffers from water leaks and mold, according to inspection reports posted for the upcoming County Commission meeting Thursday.
The problems, noted for years in routine inspection reports, are echoed by letters sent to The Daily Times by inmates.
"To whom it may concern," begins a brief letter from a male inmate in December. "We are trying to reach out to the public (because) there is standing water and black mold on the walls."
The mold poses a particular problem, the writer adds, for those in his cell assigned to sleep on plastic "boats" on the floor — a common fact of life in the facility that failed a state inspection in 2012 due to crowding.
"Please help," the letter ends.
Routine inspections of the facility are done on a monthly basis by a county-appointed three-member panel. The inspections are announced ahead of time through public notices in The Daily Times.
"It is raining today and water is evident in most pods and is particularly bad in C-5 and C-6," reads the latest inspection, from last month. It states those cells have wide cracks near the ceiling, and "mold/mildew can be found on the walls, in most cell areas and around windows."
Cell D1 also was found to have mold or mildew around the windows. Cell D5 had an active water leak that was "observed dripping during visit."
Blount County Sheriff's Office spokeswoman Marian O'Briant emailed that reports of mold or other sanitation issues are tended to by maintenance workers. "Inmates are also given adequate opportunities to use cleaning supplies to clean their living as well as common area," she added.
The February inspection report noted some efforts being made.
There are "plans to install a French drain outside (cells) C5, C6 and C7." In the D-pod, which is the other wing of cells, "there are plans being made for evaluation and cost estimates for water intrusion issues."
Problems with leaks and with mold have existed at the jail for years.
"Water comes in at the foundation in C block and around windows during heavy rain events. This is an ongoing issue," reads an inspection report from December 2016, the earliest report readily available online.
A 2013 letter from a female state inmate, which described jail conditions as a "living hell," also mentioned mold from ceiling leaks, and a "small trash can full of water overflowing."
The letter also describes, among other episodes, an incident in which she and several inmates were put in a room with a toilet overflowing with feces. "We had to breath it," she wrote, "causing me to vomit."
Water damage is not limited to the inmate cells.
The February 2019 report also noted evidence of continuing water leaks in the fingerprint area and in the administrative office, where many ceiling tiles had been replaced.
An inspection report last year had noted that mold in the ceiling tiles of the office was "causing breathing problems for some of the employees in the area."